Unicorn Blog
Unicorn Costume Tutorial
by Maxime Blanchemin on October 26, 2020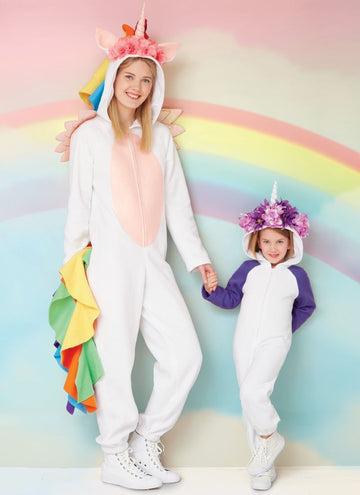 Here is a complete tutorial for your future 100% handmade unicorn costume.
This tutorial has been tested by Madeleine for the Fabricville fabric store. The disguise was obviously used;)
Ready to make a unique unicorn outfit?
This unicorn costume can be made for girls or for moms! It is up to you to choose the child size or the adult size when selecting the pattern. This jumpsuit is loose with a lined hood.
For which occasion ?
For a birthday party, a Halloween costume or even for Christmas.
Advantage: It's easier with a video that complements the boss.
The costume has a zipper on the front. We find a rainbow tail with six colors, wings, ears and horn of our unicorn.
The technical description of the Sewing Patterns website
FR sizes : for children from 3 to 8 years old (98 to 128 cm) and for women from 36 to 50
Sewing level : easy
Recommended fabrics : A, B, C, Contrast 1A to 6A, 1B to 6B, 1C: Fleece, Kinds of fleece. Contrast 7A, 8A, 7B, 2C: Felt. Contrast 8B: Fancy organza, Fancy tulle. Lining: Cotton, Cotton fabric. Interlining: to sew. A, B: Iron-on veil on paper.
Languages ​​included : French and English
Our sources for this tutorial:
The video shows you the cutting of the pattern and the steps for assembling and sewing.
Your equipment for a homemade unicorn costume:
Mc Call's Costumes Sewing Pattern M7852
Head pins for sewing
Scissors
A marking pencil
A 35 cm zip
A piece of elastic
A safety pin
Unicorn-colored embroidery thread (dark pink, purple ...)
Polyester padding in various colors
Colored felt
Main fabric chenille or fleece
White or colored thread in the unicorn theme
1 comment